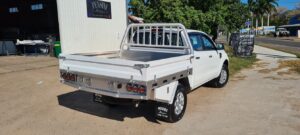 Pensini Alloys heavy duty trays are designed to perform in all types of applications. Maintenance and rust-free, our alloy trays are perfect for the avid beach goer while still being light and strong enough for the heavy diesel fitter to carry all their tools.
Our standard features include:
76mm tube headboard
4mm one piece flat floor
Removable alloy drop sides
Tie down rails
Mudguards
LED tail lights
At Pensini Alloys, we strive to deliver quality workmanship at an affordable price. Our range of options provide you with storage solutions to suit all your needs. Lockable under tray toolboxes and rear slide out drawers provide dust and water proof storage for all your tools, straps and tie-downs. Under-tray mount or side mount water tanks provide convenient on board water storage for those off road and beach adventures.
Discuss the range of available options with our team and customise your tray selection:
Under tray tool box
Side water tank
Rear slide out drawer
Under-tray mount water tank approx. 60 litres
Checker plate or flat alloy inserts
Tradesman rear rack
CNC Router Cut headboard mesh
Colour coded drop sides